Over the last 15 years I have worked with many senior leadership teams that are grappling with necessary organisational changes. These are often to take advantage of market or political trends, consumer demands, or to gain first mover advantage. Having said that, in one case a number of years ago, it was because the senior team had been given the feedback that the vast majority of people in the business were unhappy.
It was around this time that I became interested in the subject of trust.
It seemed to me that the leadership team mentioned above just wasn't trusted anymore. Nobody believed what they said. Since then, I've seen it time and time again. A leadership team that thinks if they make the right noises for a while, people will get on board.
A lack of trust in all walks of life makes things very hard. Do you like being around people you don't trust? Of course not. It brings a heightened sense of anxiety and caution to everything we do. If you are in this situation on a daily basis or in your personal relationships, it makes life unbearable.
My work over the last few years has led me to talk to teams about the need for them to rebuild trust or ensure they are trusted before embarking on changes, big or small, in their organisations. As ever around the subject of change, some people get it but many don't. Many assume that just putting a good plan in place and some positional authority behind what they are saying means that people will just come on the journey with them.
So, as I explored the topic further, I began to develop something I call the 'Trust Index'. Although rudimental, it was based on hours of talking to people in organisations. This simple research helped me identify three key factors that are needed to build trust:
Competence, honesty and reliability.
I would then ask people in the organisation three simple questions based on these factors.
1. On a scale of 1-10 do you think the senior team are competent as leaders?
2. On a scale of 1-10 do you think they are honest with you?
3. On a scale of 1-10 do they do what they say they will do?
I'd then take all the responses and convert the answer to each of the questions into an overall percentage. As I said, very rudimental! However, it did give me a really good guide about how much people trusted their managers and team leaders.
I then went back to senior teams that were being given a score of 50% or less by their people, and suggested that they should think twice before making any changes of significance in their organisations, and instead wait until they had won back the trust of their people.
Recently, I came across something along the same lines as my research, although rather less basic! While on a long train journey, I was flicking through Ted Talks on my laptop when I saw one by Frances Frei, a professor of technology and operations management at the Harvard Business School.
She had been working at Uber following their recent problems, and had noticed three things that were broken in terms of trust within their culture.
Her talk is funny, informative and a great watch. She puts things so much better than I had been able to with my simple research. She talks about the following three things being needed to gain, maintain and rebuild trust:
Authenticity, logic and empathy.
Firstly, I was really pleased to see that my own limited research had given results that were similar to those Frances was talking about. However, as only one of us is a Harvard professor, I am more than happy to take and work on her three factors!
We've created this diagram below based on what Frances says in her Ted Talk: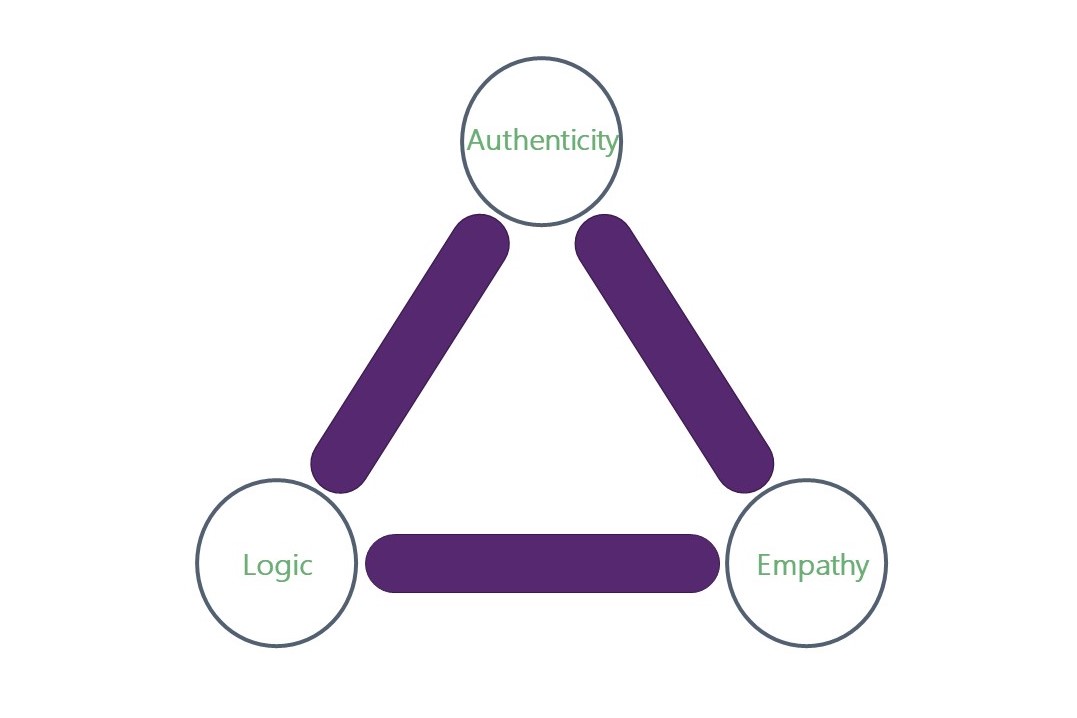 So, why not ask yourself the following three questions, either in relation to the people you lead or the people who are leading in your company.
1. Authenticity – Are they seeing the real you?
2. Logic – Does it (whatever it is you are proposing) or do you make sense?
3. Empathy – Do people see that you care about them? If any of these three are missing, the whole thing goes very wobbly and certainly means you don't have the basis on which to launch a programme of change.